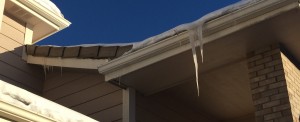 Ice Dams and Your Roof
What the heck are ice dams? Here in Colorado we are lucky. Our snowstorms are usually followed by sunshine and warmer weather.
This warmer weather will typically melt the snow from your roof pretty quickly.
The ice dams form when we have heavy snow and then freezing temperatures for a few days following.
How Are Ice Dams Formed?
Ice dams are formed when the heat from your attic rises to your roof. The snow that is sitting on your roof will start to melt from that heat. As the water makes it's way down your roof to your gutters filled with snow, the water has no where to go.
That water then freezes and then turns to ice forming a dam. You typically see icicles hanging from the edge of your roof.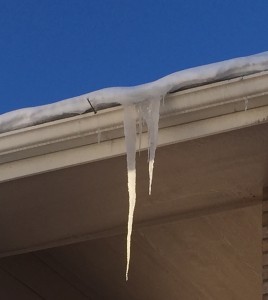 If those icicles are hanging over a door way or walk way, you will want to knock them down. You don't want anyone injured if an icicle decides to break off and hurt someone walking underneath. Depending on the size of the icicles, you may want to hire a professional to remove them.
Will My Roof Leak From An Ice Dam?
That answer will depend on a few factors. If your roof is many years old it probably does not have the property protection between your shingles and your roof sheeting.  Roof shingles are water resistant, not water proof. If an ice dam forms, as it melts the water may seep through the shingles and roof sheeting and cause leaks.
If your roof is newer, the roofer may have put the proper protection on your roof when the roof was replaced.   This protection is called ice and water shield. There are many different brands and names, but most commonly called ice and water.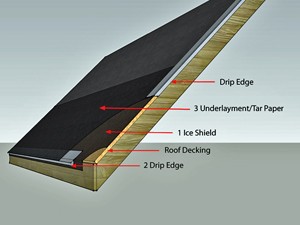 You should know that most municipalities in the Denver Metro area do not require roofing contractors to put ice and water on homes when a roof is replaced or a new home is built.
What About Waterproofing?
A quality leak barrier will create a 100% watertight seal that keeps water out at other vulnerable areas of your roof. You should add extra protection in valleys and at eaves — the most leak-prone areas of the roof.
We also strongly recommend protection for chronic problem areas like skylights, dormers, vent pipes, chimneys, and other flashing areas.
Things to Consider When Replacing Your Roof:
Insurance claim replacement: Since most municipalities do not require ice and water shield, your insurance company most likely will no pay for this added upgrade to your roof. Talk to your roofing contractor so that you are clear whether or not you will have ice and water installed on your new roof.
Homeowner replacement: Again, since most municipalities do not require ice and water shield, your roofing contractor most likely will give you an estimate without this upgrade. You may want to consider adding it to your estimate to give yourself better protection.
To add ice and water to a typical 3,000 square foot home would cost approximately $560.00-$850.00.